Corner bath panel made from from pallets. Stained dark oak and then limed and lightly sanded. Quite pleased with the end result!
The top of the panels are fixed under the lip of the bath using heavy duty Velcro. The bottoms are also fixed with the Velcro to a skirting strip which matches my flooring. I used a spare piece of wood when fitting them to get an identical gap all along the bottom.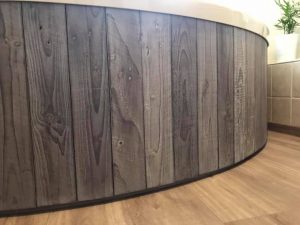 The skirting strip is glued and screwed to 7-8 wooden blocks which have been screwed to the floor. I worked out the location of the blocks by fixing a panel to a small piece of skirting and then attaching a spirit level. I put this in place where the blocks were going to accurately mark the back of the skirting.
Before attaching all the panels I sealed behind the skirting and blocks to stop any water.
Because the panels are attached with Velcro there are no visible fixings and they can be removed for access if necessary.